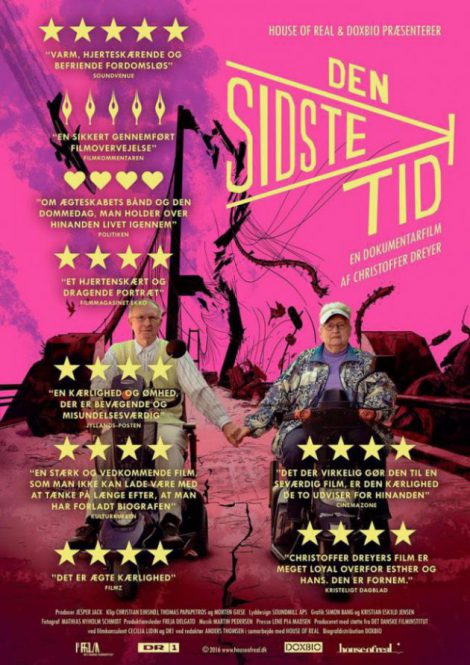 Film: Den Sidste Tid / The Last Days
Composer: Martin Pedersen
Director: Christoffer Dreyer
Producers: DFI, House Of Real
Distributor: DR
Release Date: Nov. 16, 2016
Tracklist:
Castrastrophe
Tribulations
Pushing On
Shopping
Den Sidste Tid – Maintheme
Less chess, more Bible
Missionary Work
The Booklet
Brainstorm
Muzak
The Paper
Indulgence No More
Pushing On (The Lecture)
The Storm
Read The Bible
Less chess, more Bible
Love For Esther
The Booklet
The Mailbox
Muzak
He Was Gone
Love For Esther
Esther og Hans elsker livet og hinanden. De har tilbragt næsten hver en vågen time sammen og som mange andre ægtepar glæder de sig til deres guldbryllup. Det særlige er, at lige netop dette par samtidig håber, at de aldrig kommer til at opleve det. Esther og Hans er nemlig danske "preppers" og forbereder sig på dommedag med lige dele frygt og længsel. Siden 1972 har de brugt al disponibel tid på at studere biblen i forhold til begivenheder, der er sket i verden omkring dem – og svaret er entydigt: Jorden kan gå under hvert øjeblik det skal være. De har rygsækken pakket og klar, så de kan overleve i de svenske skove, når ragnarok kommer, men nu har de ventet i 40 år og da Esther bliver syg, må de se i øjnene, at det ikke er jorden sidste tid, de står overfor, men deres egen.